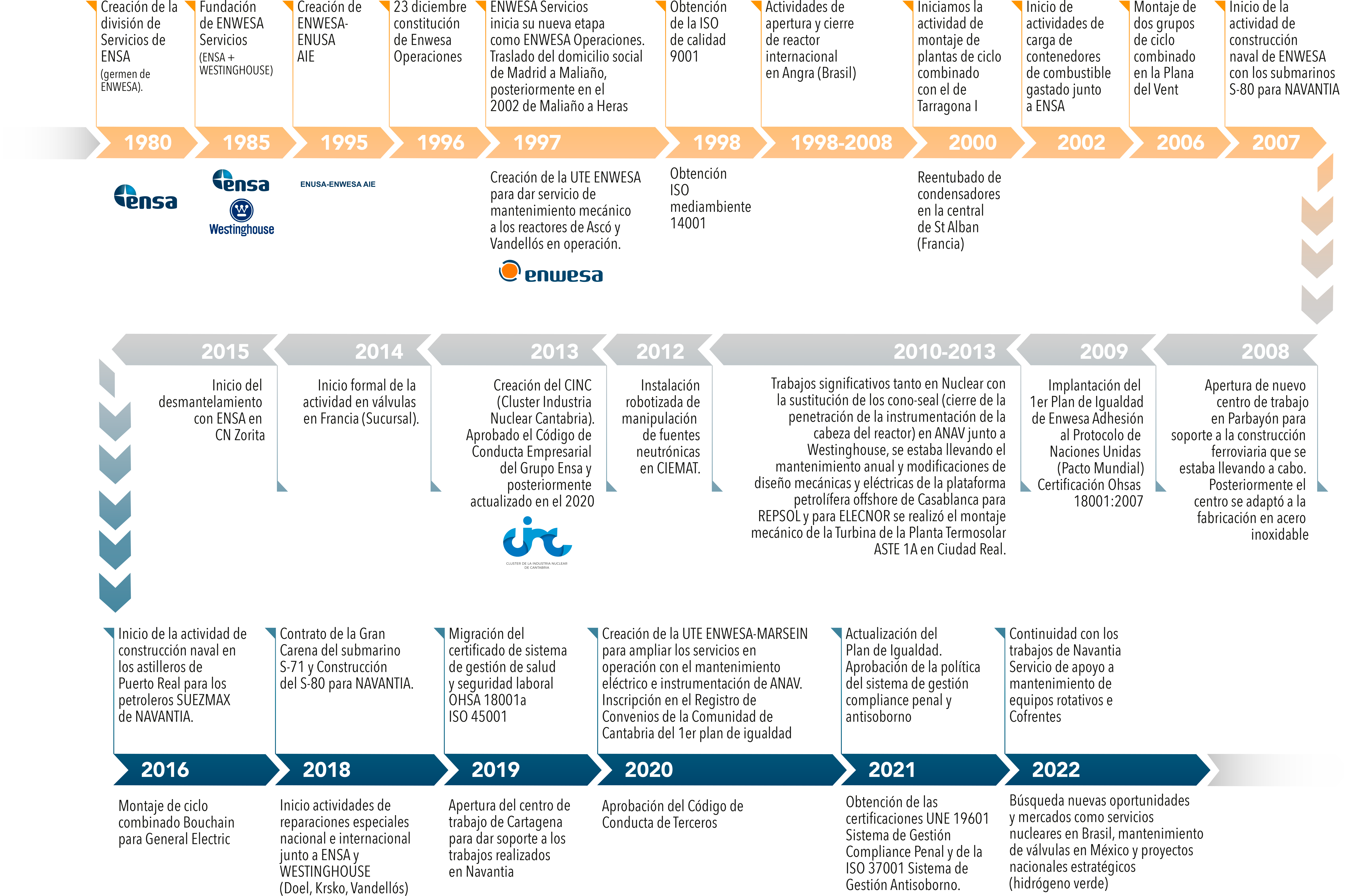 Our history began in 1973, with the incorporation of Equipos Nucleares, SA, SME (ENSA), a public company majority owned by Sociedad Estatal de Participaciones Industriales (SEPI). To meet the demands of the Spanish civil nuclear programme for manufacturing large nuclear components, ENSA opened its plant in Maliaño (Cantabria) and began operations in 1976.
In 1980, ENSA sets up its services division aiming to work in nuclear power plants in an array of tasks such as main components assembly, and repair, fuel handling, mechanical maintenance, decontamination and decommissioning, which later laid the foundations for the collaborative entity ENWESA Servicios through the participation of Westinghouse Technology Services in 1985.
In order to make the most of our capabilities, ENWESA teams with ENUSA Industrias Avanzadas S.A. and WESTINGHOUSE TECHNOLOGY SERVICES S.A.. Thus, the ENUSA ENWESA AIE association of companies was born, providing Nuclear Fuel services in Nuclear Power Plants since its creation in 1995.
ENWESA Servicios incorporates four product lines: Nuclear Services, Maintenance & Rotating Equipment, Manufacturing and Valve maintenance. It became Enwesa Operaciones in 1997.
In 2013, Enwesa joined the Cantabria Nuclear Industry Cluster (CINC) with several other companies in the nuclear sector, led by ENSA, with the University of Cantabria and the Technological Centre for Components, to take advantage of the great opportunities in the industry and try to obtain synergies that enhance the activity.
In 2014, ENWESA's french branch was set up to better serve projects in nuclear power plants in France and provide better customer service.